Press Release
CDCG receives Safety Awards
July 13, 2016
GRAND RAPIDS, MI — Cascade Die Casting Group, Inc., is pleased to announce that all three of its divisions have received Safety Awards from the North American Die Cast Association (NADCA) for exemplary safety. This is the ninth consecutive year to receive this award. A "Perfect Award" was granted to the Great Lakes Division, located in Sparta, Michigan for having no lost time accidents in 2015. An "Outstanding Award" was given to Cascade Die Casting Group's Mid-State Division in Grand Rapids, Michigan and its Atlantic Division in High Point, North Carolina, for their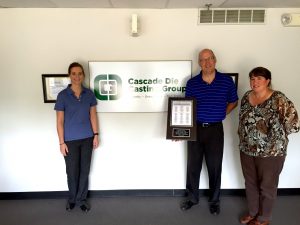 exemplary safety records. The award recognizes companies in the die cast industry that exceed industry criteria in operating a safe working environment for their employees.
Ken Savage, Vice-President of Human Resources said "It is quite an honor to have all three of our divisions recognized for their safety efforts. Over the years, our safety culture has become a key part of the way we do business. Our people deserve all of the credit for the way they have embraced and maintained our safety culture. It is only because of their efforts and dedication that we have been able to maintain such a great safety record."
Cascade Die Casting Group, Inc., has over 30 years of experience in developing and producing aluminum and zinc die castings for the automotive, medical, furniture, industrial, appliance and power tools industries. Cascade Die Casting Group, Inc. has die casting and machining plants in Grand Rapids, Michigan; Sparta, Michigan and High Point, North Carolina. For more information about the company visit their website at www.cascade-cdc.com.